I'm months late on this report, but that's fine because time is just a human concept and doesn't really exist. Anyway, here – at last – is my fourth post on Dallas Comic Con:

We begin with the usual assortment of McDonald's toys (with a couple Sy-Klones in the mix).

As usual, I spent a lot of time digging through the bins.

A naked (uniform-less) Gul Dukat!

I like that they put Christopher Lee next to Peter Cushing.

'90s toy corner
Plush Toys

Gudetama, the Sanrio (makers of Hello Kitty) character – a depressed egg yolk. Wow!
Comics

Thousands of dollars worth of comics in this single image alone.

But this $1 comic of Elroy meeting his Bizarro World counterpart is more more my speed.
Batman

This looks so old!
Dragon Ball

There was a heavy Dragon Ball presence this year – maybe because it was the same venue as Kameha Con? A mini-replica of the Tenkaichi Budokai (World Martial Arts tournament) building was in the middle of the dealers room.

Lots of classic fights in the franchise recreated by action figure dioramas in glass cases.

Even fights from recent Dragon Ball Super episodes.

And a nice, 3-dimensional preview of the Broly film, which was a couple months away from its premiere at this time.

Also on display were previews of upcoming figures.

And "Chibi" or "Super Deformed" figures (not sure what they're called nowadays).
Accessories

Ahh yes, these again – now with Star Trek: Discovery additions; the Mirror Universe pins look like they could be really dangerous (as they should, I suppose).

I should've at least asked how much these were going for.

Are helmets considered "accessories"? Sure.
Photo Ops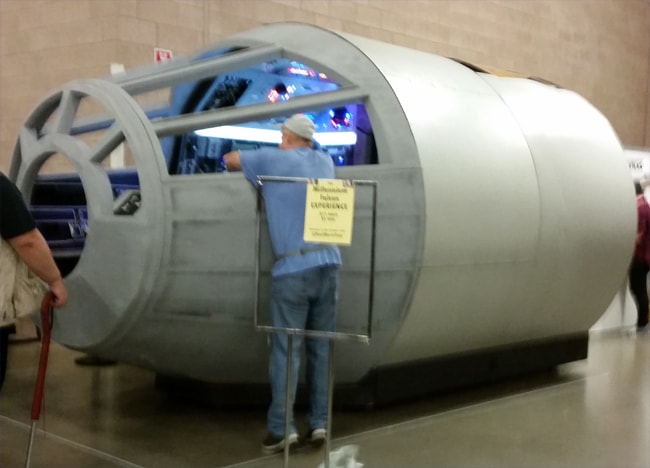 Replacing the full-scale replica of the the Star Wars snowspeeder was a full-scale replica of the Millennium Falcon cockpit; I think it cost $30 per photo.

But if you wanted something cheaper (free), you could pose on the Flying Nimbus AKA Kinto'Un from Dragon Ball.
LEGO City

As I've been going to these cons more and more, I've started exploring the offerings upstairs.

This year one of the rooms contained an entire LEGO city; based on some of the building signs, I think it was supposed to be Gotham.

There was a man in the room carefully constructing its elements, so I'm going to assume he was its sole creator.

Parts of the city, like this carousel, were motorized and moving – the city was alive!
The Haul

I was randomly thinking about the Witchblade show earlier that day, so when I saw that pack of cards, I felt compelled to get them.

Standouts were Garak and Jeff Goldblum (well…"David Levinson" from Independence Day).