Happy Mother's Day to all mothers, and all people who have or have had mothers! What better way to celebrate the day than by getting together and watching random tv show episodes centered on mothers?
1. "Maternal Combat" – Dexter's Laboratory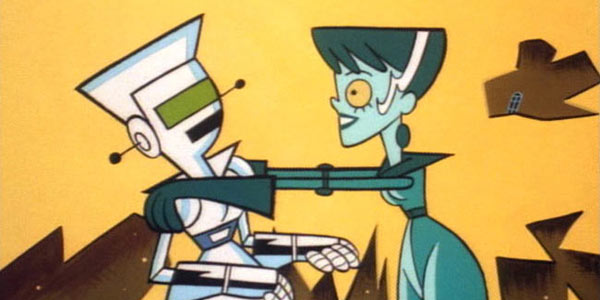 Dexter's mom falls ill and Dexter builds a "Mom-Droid" to do all the household chores. But after Dexter's sister Didi gets control of the Mom-Droid, Dexter is forced to create a replacement. Maternal combat commences between the two droids and culminates in massive destruction.
2. "The Gathering, Part 2" – Gargoyles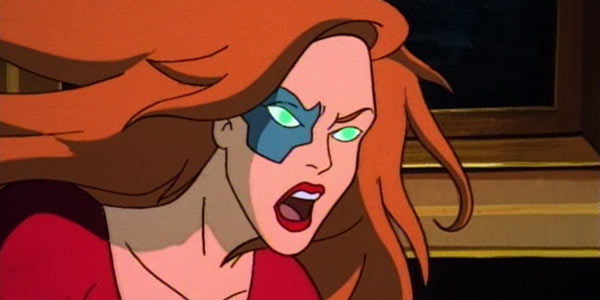 In this epic two-parter, the Gargoyles team up with Xanatos, Cyberbiotics, and Puck to stop Oberon and Titania from stealing Fox's baby. They fail, but at the last minute, Fox's dormant magical ability awakens and she shoots a huge-ass energy beam, injuring Oberon.

Also "The Reckoning," while primarily about Thailog's gang, features the first meaningful interaction between Demona and her daughter Angela; Demona comes to realize that she loves Angela.
3. "Family Business" – Star Trek: Deep Space Nine


The first time we meet Quark's mom (or Moogie) Ishka, and the only time she's played by Andrea Martin before Cecily Adams took on the role in future appearances. We learn a lot about Ferengi culture in this one.

Honorable mention goes to the Star Trek: TNG episode "Interface" where Geordi spends the episode trying to save his mom, until he learns it's not his mom but an alien that looks like her. How embarrassing.

And of course, I'd be remiss not to mention Troi's wacky mother Lwaxana, whose strongest episode is "Half a Life," where she's in a relationship with David Ogden Stiers.
4. "The Body" – Buffy the Vampire Slayer


Whoa, whoa, wait not this one.
4. "Ted" – Buffy the Vampire Slayer


This one's a lot funner. Buffy's mom starts dating a guy named Ted who turns out to be an android.
5. "The Prodigal" – Stargate Atlantis


Michael goes to Atlantis looking to steal Teyla's baby. He flings a Dell laptop off a desk when things don't go his way, but by the end of the episode, Teyla ends up flinging him off a balcony.
6. "Coming Home" – Mobile Suit Gundam


Amuro comes home (as the title suggests) to his mom, but she's disappointed at the type of man the war's turned him into. As he runs off to his Core Fighter jet, she shouts that she's ashamed to call him her son. Yikes!
7. "Exit Nefaria, Enter Barbaria" – Masked Rider


In the show's penultimate episode, Dex's adoptive mother Barbara gets possessed by the evil Nefaria to become the super evil Barbaria. She tries to corrupt her children by telling them to stop studying and watch more tv, then fights Dex (as Masked Rider) by throwing a feather at his chest and dealing absolutely no damage. Fortunately, Barbara is able to fight off the evil influence when Dex tells her he loves her and she returns to normal.
8. "Teela's Quest" – He-Man and the Masters of the Universe


In an early episode of the series, Teela becomes curious about her mother's identity and seeks the Oracle of the Crystal Sea for answers. Teela learns the Sorceress of Castle Grayskull is her mother; however, the Sorceress removes the memory of this revelation from Teela's mind until the time is right: "She will only remember that her mother was a woman who loved her very much."

The 2002 Masters of the Universe remake tackled the Teela-Sorceress connection in "The Ties that Bind." Teela is wounded from Tri-Klops' energy blast, but a blood transfusion from the Sorceress revives her (and gives her temporary telepathy). Teela grows curious about the Sorceress, but doesn't learn the truth because the show got cancelled!
9. "The Curse of Fenric" – Doctor Who


Ace is able to confront her bad relationship with her mother when she travels to World War II and meets her mother when she was a baby.

In the modern series' "A Good Man Goes to War," the Doctor assembles an army to rescue Amy and her baby Melody from Madame Kovarian. While Amy is saved, Melody is taken away by the Silence. Then River Song shows up at the end to reveal – SPOILERS – she's a grown up Melody Pond!
10. "The Children of Auron" – Blake's 7


Servalen uses the planet Auron's cloning facilities to make a bunch of clones of herself, but by episode's end, they get destroyed and she telepathically feels all their deaths. Bummer.