For Mother's Day, here's another group of 10 episodes featuring moms from shows you may or may not like that you may or may not consider watching to celebrate the holiday.
1. "The Derelict" – Lost in Space

Maureen Robinson, matriarch of the Robinson family, is a major part of the series…but mostly as set decoration. It's unfortunate, but she's the most underused member of the cast and never really gets any focus. Probably the closest she gets is in the first three minutes of this episode, where she's the one who dons a space suit to rescue her adrift husband.

Her role gets expanded immensely in the 2018 remake, where she actually has the lead role; pretty much every episode gives her ample screentime.
2. "Mother's Day" – Rugrats

I remember this got a lot of buzz and accolades back in the day. Chuckie has a recurring dream about a woman carrying him around a garden, and after finding an old photograph, learns that this woman is his mother (voiced by Kim Cattrall) who passed away years ago.
3. "Valentine Murder Case" – Detective Conan

One of my favorite episodes because of how absurd it is (though, okay, a lot of Detective Conan is absurd). A woman doesn't like her stepson and needs money from his dad, so at a Valentine's Day party, she puts poison in everyone's coffee and the antidote in the cake, knowing full well the stepson won't eat the cake because it has strawberries or whatever in it.
4. "The Leader" Parts 1 & 2 – Animorphs

Based on the 5th book in the young adult book series of the same name – Marco discovers his mom's body is host to Visser 1, the supreme leader of the Yeerks (alien brain parasites). It was always a big deal in the books when Visser 1 showed up, particularly for Marco; however, given the show's untimely end, they didn't really have time to explore this storyline in depth.
5. "Temptation of the Plates" – Brain Powerd

Captain Anoa has a nervous breakdown after finding out the man who attacked them last episode was her estranged son Jonathan, and feels guilty for abandoning him when he was a child. During a mission, later in the episode, she acts reckless and seemingly dies while trying to pull off a dangerous stunt in an aircraft.
6. "Batmantis" – Space Ghost Coast to Coast

An exciting, Batman-flavored episode in early Space Ghost Coast to Coast, where Zorak puts on a bat costume to become "Batmantis" after Moltar is kidnapped by a villainess named Your Mother. Space Ghost tries to get help from Lee Meriwether and Eartha Kitt, but turns out the whole thing was a dream after Space Ghost fell asleep listening to Adam West.

A later episode ("Mommentary") features commentary on another episode ("Kentucky Nightmare") provided by the mothers of several of the show's producers.
7. "Secret of the White Lion" – Beast King GoLion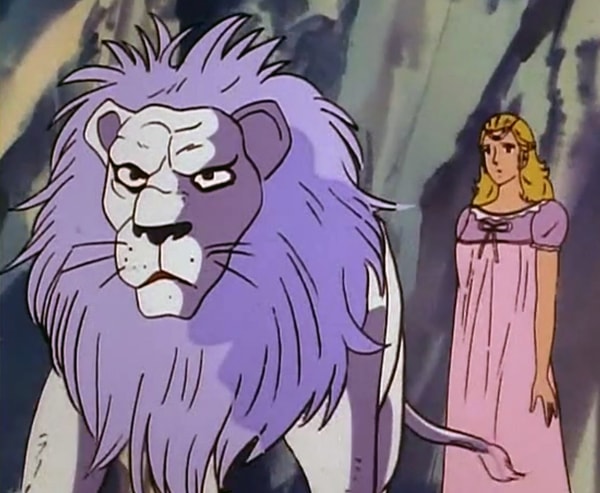 After having a dream about her mother, Princess Fala encounters a white lion that speaks with her mother's voice. Fala follows the lion, thinking it contains her mother's spirit, but it all turns out to be a trap orchestrated by the witch Honerva.
8. "Mother's Little Helper" – Whoopi


Okay, I admit, I watched this forgotten sitcom back in the early '00s – it was filled with every cliché imaginable, and a lot of the humor hasn't aged well. This episode involves Whoopi dreading a visit from her judgmental mom, but then it turns out the mom is actually incredibly warm and friendly. The reason? She's heavily medicated on antidepressants.
9. "Young Man's Fancy" – The Twilight Zone


After getting married, Alex Walker returns to his childhood home to make preparations to sell it, but strong memories of his childhood and dearly departed mother force him to reconsider. His wife, Virginia, tries to fight the hold his mother has on him, but it doesn't work; his mom comes back to life and Alex turns into a child again.
10. "Perpetual Infinity" – Star Trek: Discovery


This episode aired pretty recently, so to minimize spoilers I'll just say that we learn a lot about Michael Burnham's mom and what happened the day the Doctari Alpha Research Outpost was attacked by Klingons (among many other things).