The sun was in full bloom on this hot, summer day – the very day I visited a flea market (flohmarkt) in Germany.
Flea markets all share one common attribute: junk. Junk everywhere. There's good junk, but mostly bad junk, and every so often you'll find gems, but only after hard work and patience.

These tables were the flea market's version of RadioShack. Is RadioShack still around? A quick Google search reveals that yes, it is!

Pins from all over the world! (Well, some places in the world, at least)

These shirts were pretty cool and I was tempted to get one.

Hello there!

A few board games. Guess which one piqued my interest (the one with the chicken).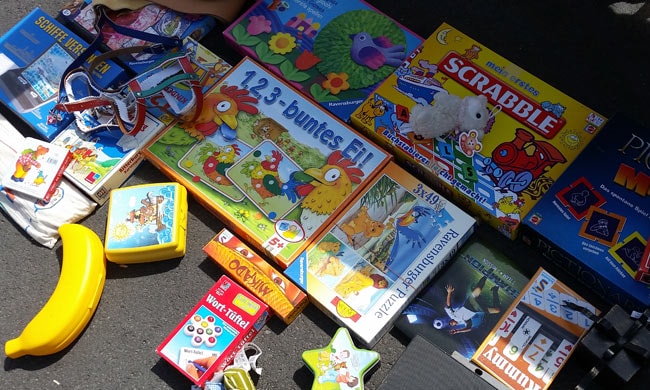 VHS tapes! The German title of Fox and the Hound is interesting, but The NeverEnding Story III sucks no matter what language it's in.

Of course, toys weren't a focus at this flea market, but a few people were selling them. Barbies and Duplo blocks here:

Most other toy offerings were piles of unsorted miscellany.

See that fisherman/painter-looking guy in the middle? I don't trust him. Not one bit.

An eclectic group of things. Nice typewriter

I didn't get too close to these because I was afraid of tripping and breaking them all.

I didn't spend a lot of time at any one table, so I ended up leaving with very little. Maybe if it wasn't such a hot day, I would have had more patience. But at the same time, I didn't really want to spend the whole day going through junk.