This is my first time reviewing music, so I figured I'd start by looking at Babylon 5's first soundtrack release (okay, technically it's a score but I feel it's easier if you just call everything a soundtrack) featuring music composed by Christopher Franke of Tangerine Dream fame. This volume features suites from 4 episodes early in the show's run…
Chrysalis
4 tracks
There's a lot of action music here, mixed in with what I'm going to call epiphany music, like someone told you an important secret and you run off to tell all your friends, but then you remembered: "Oh yeah, it was supposed to be a secret."
The first track ends with Kosh sound effects – the weird, otherworldly noise that plays when he speaks. I imagine it's what lemurs sound like, but I don't want to check because there's a good chance I'm wrong.
The third track has a lot of foreboding, mystic music, like someone's telling a story about their experience with bed bugs. This one played during most of Delenn's scenes in the episode, by the way.
Now, we really need to talk about the fourth track. I don't think this one was actually in Chrysalis (it was Adira's theme in Born to the Purple), but that's not a complaint because this is easily one of the best tracks in the entire series. It's seductive and relaxing, as if a lover (or your cat) got extremely close and started breathing on your face. Soft, rhythmic breaths that calm you and induce a meditative state. You can seriously listen to this one on loop for hours…I speak from personal experience.
Mind War
2 tracks
From the episode where Walter Koenig and that British lady visit the station to hunt that super telepath. This music sounds suitably mysterious and eerie, like "I'm going to tell you the secrets of the universe" type stuff. Then it builds up to a confrontational theme, like you just poked a bear a bunch of times and it starts chasing you.
Parliament of Dreams
3 tracks
Back to the same flavored action music we heard in the Chrysalis tracks. There's a good part two minutes into the third track that gives the feeling of being sucked out of an airlock and you're freely floating in space.
Track 2 is the standout here – a steady bongo beat accompanied by a saxophone. Very unique, as I don't think anything like this ever pops up in the show again. It also uses a synth woodwind-type instrument that sounds like a person exhaling, similar to what was used in Chrysalis 4 and Tangerine Dreams' Song of the Whale.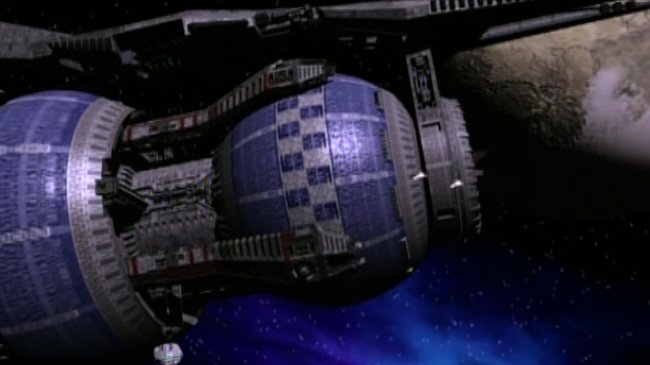 Geometry of Shadows
3 tracks
Starts off with the season 2 opening then becomes yet another action theme, but this one feels bigger and grander, like it's a boss fight in a video game. It also has elements of a royal march; this definitely played during the episode's Technomage scenes.
The third track reuses some of the themes from Mind War, which I think were also used at least a couple more times in later episodes. This is what we hear in the show when the situation looks especially grim and we're not sure how our heroes are going to survive.
Overall
I love Babylon 5's season 1 music in particular because I felt it was when it was at its most "synthiest," if that makes sense. There is a lot of sameness in some of these tracks, though – especially when it comes to all the action music – but it's all worth it for Chrysalis 4 alone (and, to some extent, Parliament of Dreams 2).