Someone requested I continue my list of hypothetical Earth: Final Conflict action figures. That someone was me. This second wave focuses on character introduced in the second season, with a few holdovers from season 1. No Taelons in this wave; I considered including Ne'eg, but figured he'd look too similar to Zo'or in wave 1.
Liam Kincaid

Accessories: Pistol, Global, shakarava hands x 2 (glow in the dark), energy spiders x 2 (also glow in the dark)
Siobhan Beckett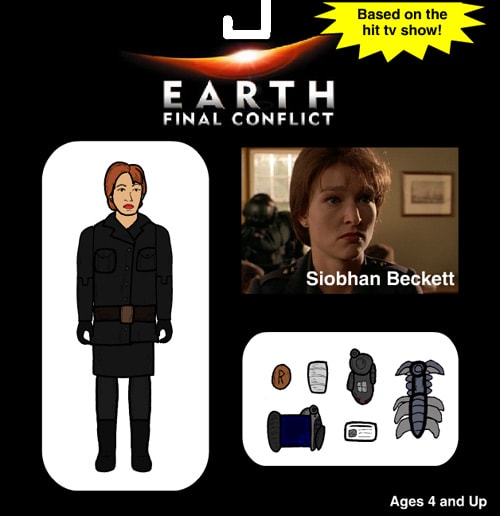 Accessories: Runestone, drinking glass, Taelon scanner, Global, cash card, Skrill
Jonathan Doors

Accessories: Global, Taelon thing, pen, drinking glass, briefcase, computer pad
Julianne Belman

Accessories: Chimpanzee (Max), test tube, syringe, stethoscope, computer pad
Maiya

Accessories: Sunglasses, pistol, helmet, mini-computer, drinking glass, Taelon headset
Careful – if you get this figure, it will disappear from your collection after a few weeks (just like the character).
Julia Cook

Accessories: Rifle, Taelon box thing, Global, Volunteer hat, Taelon ball thing