Picard can get your attention with one or two words. He can get your attention by making noises. Now let's look at the times he let us, the audience, know what was up by letting his face do all the talking.
1. Going to the Holodeck – The Big Goodbye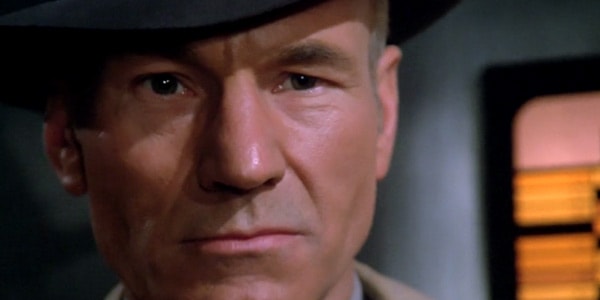 Picard looks cool in his costume, but more importantly he knows he looks cool.
2. Dinner Scene – Conspiracy


What's for dinner? Surprise! You have to eat worms. Worms are gross.
3. Pre-Coughing – Transfigurations


Right after the bad guy alien turns off the air, Picard has a remarkable expression on his face, as if he's saying, "Something's wrong, here. Why can't I breathe?"
4. Reflection – The Best of Both Worlds, Part 2


He just went through a lot, being assimilated by the Borg and unwittingly helping them destroy 39 starships. He knows his recovery has only just begun.
5. Emptiness and Guilt – Galaxy's Child


"Did we just kill that space lifeform? Shit!" Those are the thoughts in his mind at this moment. It's all over his face.
6. Death Stare – Violations


Just look at that icy stare piercing your soul. This Picard could whisper a handful of threatening words into your ear and you wouldn't be able to sleep for weeks.
7. Worriment Clouds – Lessons


Picard's really worried about his new girlfriend who's stuck on Lava Planet. Is she alive? Is she dead? The possibilities cycle through his mind like a whirlpool of concern.
8. Mildly Restrained Joy – The Chase


Picard does his best to keep his cool when he sees this ancient artifact that's still in mint condition. Try a little harder, Jean-Luc; your glee is leaking out!
9. Silent Stare of Disappointment – Pre-Emptive Strike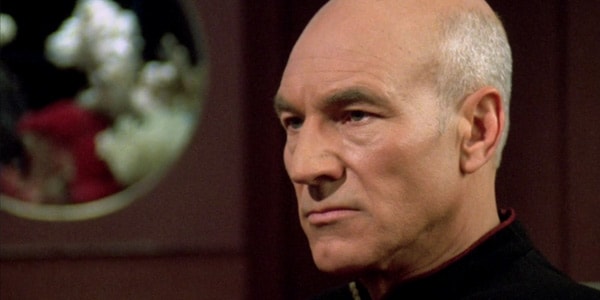 Ro, who was kinda-sorta his prodigal surrogate daughter, just let him down big time, betraying Starfleet to join the rebel Maquis. Now would not be the time to ask for a promotion.
10. Post-Mambo – Star Trek: Insurrection


After dancing the mambo, he stops for a minute to notice in the mirror that he's gotten younger. Really, I put this here because I wanted to remind you that Picard does the mambo in this film.